Looking for creative entertainment during events and parties?
Book your digital graffiti wall now at Digitalegraffiti.be
Digital graffiti wall
Digiffiti stands for digital graffiti. With this interactive application your guests can create graffiti on a large digital screen. You can tailor the graffiti wall completely to your brand or corporate identity. Your customers, employees or business associates will have a unique experience!
Workshops and demonstrations
Digital graffiti is a creative and colourful addition to an event. Our artists can give a spectacular demonstration, or we can help your guests with creating a unique digital piece of art in an open walk-in workshop. Our graffiti wall is based on a patented technique using infrared light. That means no paint stains, no haze and no smell!
Creative workshops & entertainment
Your visitors can preserve their colourful creations. When a WiFi connection is available, the graffiti artwork can directly be send from the graffiti wall to an e-mail address. Or the pieces can be printed on glossy paper or shared on Facebook or Instagram. Our system saves all creations automatically.
Open entry workshops
You can provide the creative sessions within an event or as a stand-alone activity. Our graffiti wall is very suitable for open entry workshops, where all visitors can join in and spray on the digital wall simultaneously, creating one big piece of art.
We can tailor the graffiti wall entirely to your wishes. The wall offers an original way to introduce your guests to your company, brand or service, by customizing it with, for example, your company logo.
Open walk-in workshops on a digital graffiti wall at events, celebrations and fairs. Spraying without the smell and haze of paint thanks to Digitalegraffiti.be.
Side-entertainment during events
Your logo or newest product can be placed in the background, replacing the standard digital brick wall. It is also possible to add your logo as an overlay. The visual of your choice will always be visible on the foreground and cannot be sprayed over. This way, the graffiti wall offers creative joy throughout an entire event while simultaneously boosting your brand.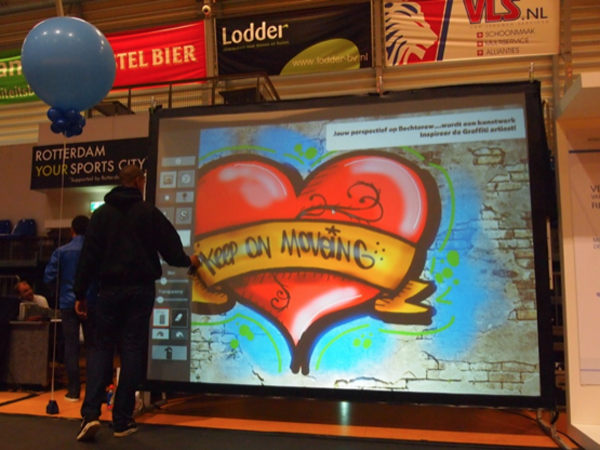 Spraying digital graffiti on our wall
Spraying our digital wall comes very close to the real graffiti experience. The digital graffiti is projected on the wall and looks very real. We provide spray cans that even make the characterizing hissing sound. Our digital graffiti comes with a lot of possibilities.
Our technology ensures that each piece of art is digitally stored. At Digitalegraffiti.be you can share your artworks directly via social media. During the event, you can print the art on glossy paper and hand them to your visitors right away.
Renting digital graffiti
Our graffiti wall is used weekly as a creative open walk-in activity at corporate events and parties. The wall gives a creative touch to various events in The Netherlands, but also in Belgium, Luxembourg and Germany. Any location is possible. Many people will experience graffiti for the first time in their lives! You can customize the look of the digital wall to your brand or corporate identity.
Graffiti demonstration
Our graffiti wall adds a surprising touch to your event, festival, party or fair. You can let your visitors give way to their creativity, or book a spectacular demonstration by our graffiti artists. While your visitors enjoy the colourful demonstration, they can simultaneously get in touch with your brand if you wish, as an image can be inserted as a background on the wall.
Curious about the possibilities? We'll be happy to send you information at your request. Perhaps until at your location?
Spraying digital graffiti
Digital graffiti comes with a big advantage: you'll not be left with paint stains! Nothing needs to be covered, because the painting is done with infrared light on a digital screen. However no paint is used, the experience is pretty much the same. The aerosols even make the typical hissing sound of real spray cans! It's no wonder that the system is designed by real graffiti masters with over 25 years of experience.
The graffiti wall
To stay close to the real graffiti experience, our digital wall shows a brick wall as a standard background. But other backgrounds are possible as well: we can add any theme, logo or picture as a base for painting. The system stores the graffiti artworks automatically. If there's a WiFi connection available, the graffiti art can immediately be placed on Twitter or Facebook.
How does the digital graffiti work?
Just like real graffiti artists we use aerosol cans. But instead of paint, invisible infrared light comes out that communicates with the technology behind the wall. To give you the full experience, we kept the characteristic hissing sound of real aerosol cans.
The biggest advantage of our digital graffiti wall technology is the absence of need for paint, making our digital graffiti wall suitable for almost any location, for no smell of paint or paint haze will be left behind.
The infrared aerosols come with various settings, like colour, line width and transparency. You can use any colour possible. Furthermore, we supply a large stock of tools like stencils and stamps to inspire your visitors even more.
What are the possibilities?
The digital graffity wall is a creative open walk-in activity, suitable for occasions like:
• Corporate events
• Staff parties
• Family celebrations
• Industry days
• Product presentations
• Brand activations
• Conferences
• Open days
• Scholarships
• Festivals
Creative Entertainment
Entertain your guests with an original and creative side-activity. Many will experience graffiti for the first time in their live! Please fill in our contact form for reservations or inquiries. We look forward to receiving your message.
Graffiti wall
Experience graffiti without the hassle of paint stains, smell or haze. Our digital technology based on infrared light makes it possible! Very realistic experience preserving even the typical hissing sound of spray cans.
Curious about the possibilities?
We'll be happy to send you non-committal information at your request. After completing the contact form as clearly and completely as possible, we'll get a good picture of your wishes and ideas. Usually you'll get a response the same day. Perhaps until at your location?
Ask your question by telephone +31(0)85-0600321 or send us a message via WhatsApp.